During this period there are thousand Number of people gathered near Bandra station.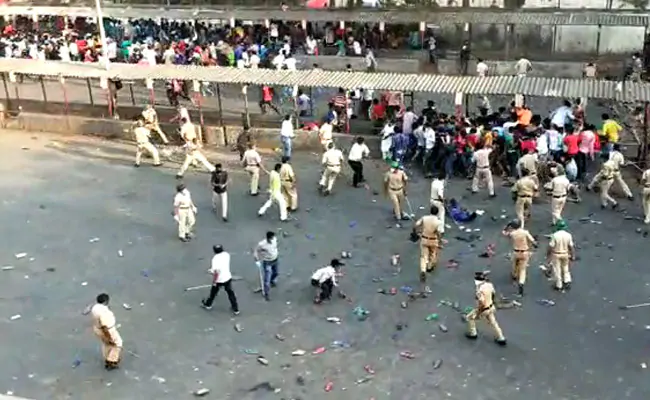 People complained that they have nothing to eat, so they should be sent to their village. Later, the police had to lathicharge to remove the people from there.
Mumbai: A huge crowd of people gathered in Bandra, Mumbai amid lockdown. They were demanding to be sent back home. People complained that they have nothing to eat, so they should be sent to their village. They were asking for permission to go home. Thousands of people gathered near the Jama Masjid in front of the station of Bandra West. Most of the migrant laborers from UP and Bihar were involved in this. However, he later left after local leaders and police intervention. The police also had to lathicharge.
you can see the number of people infected from corona in mumbai
Maharashtra has the highest number of 2337 cases of corona virus in the country. According to BMC, 204 new cases of corona have come in Mumbai today and 11 people have died. So far, 1753 cases have been confirmed in Mumbai and 111 people have died.
See the video of people who is gathered at bandra station
See what Aditya Thackrey has been said
During this Aditya Thackrey has been told that " We are already appeal to the central government to start the train for the lobar who want to go his home
Right from the day the trains have been shut down, the State had requested trains to run for 24 hours more so that migrant labour could go back home.
CM Uddhav Thackeray ji raised this issue in the PM- CM Video Conf as well requesting a roadmap for migrant labour to reach home
More about corona :
what are the symptoms of corona ?
And how do I protect my self from corona ?
Tips to safe from corona
Hand hygiene
Wash your hand till 20 seconds
Use Tissue paper while coughing and immediately put that Tissue paper in the lid..
Avoid crowded place
Don't put your dirty hand on face
Maintain social distancing
Stay at your home.
# Stay safe stay safe #
For more and latest update Likeyourstory.com welcome you.